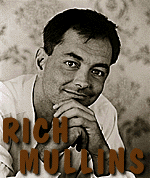 "I hope I would leave a legacy of joy." Pursuit of a Legacy
And so he did. For thousands of Christians around the world, Rich Mullins served as the poet expressing the heart of God to us. And now, he is playing the most AWESOME concert imaginable-- playing in the throne room of the King of Kings, with the angels of heaven backing him up!
Now you can hear Rich's wonderful sound for yourself! I have now established an online CDNOW store that features all of his albums, especially my favorite, Never Picture Perfect. Come on down and check it out!
If you wish to leave condolences, they will be forwarded to Rich's family. You can Email them to either me, or you can Email them to my friend Brian, who operates his own Rich Mullins page; all will be sent to his family.





My first experience with Rich was when I heard "Awesome God" on our then-brand-new-to-us Christian radio station, KGNZ.I was so moved by this song that I had to sing it in church. Our God truly is an awesome God!
The Sweetwater Experience
I attended Rich's last concert in the San Angelo-Abilene, TX area, which was held in Sweetwater, a small town about 20 miles west of Abilene, in May or June of 1992. To sum it up in one word: AWESOME. Not simply because of the quality of the music (though that was top-notch), but because there, my faith in Jesus Christ was again brought home to me. Sure, I'd been to Christian concerts before. I'd even met some of the artists after the concert was over. But in all those other cases, I'd never had an artist remind me to be God's; to totally and completely sell myself out to the Lord Jesus Christ. Rich did, and I did. I'll never forget that concert, because he showed us that because a bunch of people do seemingly stupid things (like prayer, like Bible study, etc.) according to a predetermined plan, beautiful things can result. He showed us that by teaching us to "make rain"; he divided us up into different groups, and had each group doing a different sound at a different time, sometimes blending sounds, and the result of this was the sound of a torrential downpour!
This was my first (and my only) encounter with Rich. Want to tell me about yours? Send me Email. My favorite song of his was "I See You---Step by Step", from "The World as Best as I Remember It, Vol. I". Other songs which ministered to me were "Hold Me Jesus", "If I Stand", and "Jacob and 2 Women". What were your favorites?

Click here for guitar chords and lyrics to most of Rich's songs.